Ok so the title says it all really but a recap none the less: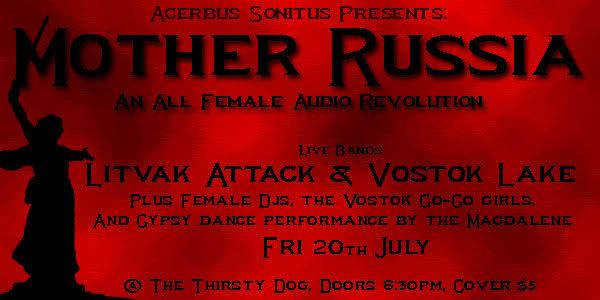 Acerbus Sonitus Presents:
MOTHER RUSSIA
An All Female Audio Revolution

Featuring Litvak Attack and Vostok Lake LIVE!

Plus other entertainment including female Djs, the Vostok Go-Go Girls,
And a gypsy dance performance by The Magdalene.

Friday 20th July (That is THIS FRIDAY!)
Doors at 9pm

At The Thirsty Dog (corner Howe Street and K'rd)

The djs will be playing an amazingly eclectic mix including, but not limited to, prog-rock, ambient and dark folk, goth rock and post punk, and finishing the night with hard rock, old school metal and some NZ hardcore!

All genders welcome.

PS: dear goths don't worry I've not gone to the rockside forever - I've found the perfect venue for a new goth/darkwave gig... save Sept 1st...